TD-8 Series
Plug-in

Multi-Function

Single Function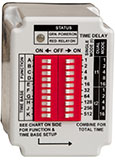 Program Unit with DIP-Switches
Features

Available as either a multifunction version with 16 functions built-in or as individual function versions
DIP-Switches for accurate digital set of time delay (multi- & single-function) & selection of function (for multi-function only)
Programmable delay of 50ms - 10,230 hours (multi-function) or 100ms - 1,023 hours (single-function)
LED indicates relay status
Pilot Duty Rating

Enclosure Style
Plug-in case utilizing industry-standard 8 & 11 pin octal sockets
Configuration/
Contact Rating

DPDT (SPDT version also available on TD-881 multi-function Series)
10A @ 240V AC/30V DC, 1/2HP @ 120/240V AC (N.O.),1/3HP @ 120/240V AC (N.C.), B300 & R300

Approvals

UL File #E109466

Technical Documentation
Operation:
The TD-8 series of time delay relays offer an easy and accurate way to select any time delay between 50ms & 10,230 hours (100ms & 1,023 hours on single-function units). Programming is accomplished through the use of 10-position DIP-switches. This method provides a greater setting accuracy than is found on other units with an analog potentiometer. An LED indicates relay status.
The TD-8 series comes in two versions: a multi-function product with 16 functions built-in or a single function product.
This process will assist you in selecting the correct product for your application. Just answer the following questions and we will lead you to the product best suited for your needs. Should you require additional assistance, contact Macromatic Technical Support at 800-238-7474.
Click on the appropriate photo to learn more about the specific product offerings:

Multi-Function

Single Function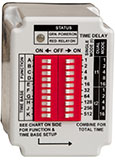 Program Unit with DIP-Switches